Archive for the 'Home' Category
The Rootstech Conference 2013 is happening in Salt Lake City Mar 21-23.  Today's General session sponsored by findmypast.com.
Log onto the Rootstech website to watch live streaming now!

Currently we are looking for Spanish-English and Italian-English speaking/reading/writing volunteers who are able to commit a few hours a week to help with extracting records, answering emails, and data entry. The interested person(s) should have access to Microsoft Excel, Word or Google Docs and have an understanding of Italian Vital records.  Most records will focus on the Southern region of Italy.
Interested parties can submit a short paragraph about themselves and what they're skills are.   Additionally if you have already done research on a particular family, town or region and would like to contribute or link that research to our site please let us know.  Genealogy or Family History sites ONLY please (all sites will be reviewed prior to linking).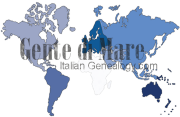 Over the last few months I've been busy trying to update both the Gente di Mare Website and Italian Surname Database.  A major makeover was desperately needed.   It's been a bit slow going to say the least but it's finally coming together!
The site is now being broken down into Categories and an index has been added to the home page which I'll be adding to as new content becomes live.  Due to the amount of files I have *buried* in the site this will take a while to get all linked.
The Italian Surname Database has also been updated to include a new search feature which now allows viewers to search not only by surname but by town, province and region.  It also allows partial searches which is helpful for displaying alternate name spellings.  Please note:  You can not search by email addresses or contributor names  so this should cut down on spam.  A widget has also been added to the site with real time posts linked to the Italian Surname Database Blog for easier viewing.
Hopefully you like the new features. As always I look forward to hearing your thoughts on the new look and any suggestions you might.  To add your surname to the database please continue to use the feedback form.  Names should be enter in to following format using normal text:
Surname
Town
Province
Region
Your Name
Your Email
Please refrain for using all capital or lowercase letters.  Thanks and Happy Searching!
If you haven't been on Family Search for a while then you're truly missing alot. Family Search has been busy adding new records almost daily including several for the provinces in Italy. Just added this past week:
L'Aquila – Nati, Matrimoni, Processetti and Morti 1809 – 1865
Pescara – Atti Diversi, Nati, Matrimoni, Processetti and Morti
Rieti – Atti Diversi, Nati, Matrimoni, Processetti and Morti
Also added this month:
Italy, Biella, Borriana, Catholic Church Records, 1740-1938
Italy, Genova, Chiavari, Civil Registration (Tribunale), 1866-1941
Italy, Messina, Messina, Civil Registration (Tribunale), 1866-1939

All records available can be accessed through the
listing on the Family Search Website.
From the Italiansrus website comes this beautiful article which tells about the Befana – the Old Witch who brings presents to children all over the world on this day. My Aunt was born on this day 72 years ago and my mother always says the Befana gave her a sister as a gift.
The Legend of La Befana
oldest and most celebrated legends. Each year on January 6 the children of Italy awaken in hopes that La Befana has made a visit to their house. This is a significant day to Italians because it marks the end of the Christmas season and the day that the three Wise Men arrived at the manger of the Christ child. Over the years the Epiphany has been a more celebrated holiday for the children of Italy than even Christmas. … read more…
Sorry folks but it looks like I missed Columbus Day, Thanksgiving Day (we celebrate Thanksgiving in October in Canada), Halloween, and Italian American Heritage Month as well as half of November due to some personal health issues but I really did start writing this on 10 Oct. I can't actually write about up and coming events because they have already come and gone but instead of dwelling on what was, lets look at what is.
October is often referred to Italian Heritage or Italian American Heritage Month in several parts of the US although it's not recognized at all in Canada in spite of the high Italian population that cities such as Toronto and Montreal enjoy. A few years ago I found a wonderful website devoted almost exclusively to this topic. Thirty-One Days of Italians covers several categories, all of which promote Italian American Heritage. Certain areas of the site are under construction as new categories like The History of Italian Immigrants are being worked on but there's quite a bit of interesting information on it already. Definitely a site to keep an eye out on.