Archive for the 'Databases' Category
By now most people have heard the news that Ancestry is going to retire the old search feature on their site. A "new and improved" feature is in the works to merge the functionality of both the Old Search and New Search into one consolidated search engine which has set a lot of people in 'panic' mode.
Unfortunately, change is unavoidable (and necessary) in today's wonderful world of technology. This of course doesn't help those who repel change and technology (myself included).
What can you do? Well Ancestry has set up a survey to solicit feedback from it's viewers about what they like/don't like. They will use the feedback to help with the design of the new feature which may not be all bad.
We'll see….
Ancestry – FREE access to Canadian records from June 27th to July 2nd at Ancestry.ca! The free records offered include passenger lists, the 1871 census, WWI soldiers, and records predating Confederation.
This Memorial day don't forget to stop & pause on Monday at 3 p.m. for a moment of silence to honor those who died in service to the United States.
USCT Service Records Complete through the 138th Infantry – Free through May 31st on Fold3.
Also search free Military Records on Ancestry.com

We are pleased to announce a genealogy data sharing partnership has been formed been Calabria Exchange  and Il Circolo Calabrese  .
As part of that relationship, ICC will be hosting genealogical data that has been extracted from various towns

around Calabria while using ICCs database engine to make everything searchable online. What this means to you is that you will soon have access to more genealogy data on both websites using faster and easier methods of searching.
Currently C|E hosts over 160, 000 extractions and images to various records for towns in the province of Reggio Calabria while ICC is largest Calabrese membership organization in the world devoted to the study and preservation of the genealogy, history, culture and language of the Calabria region of Italy.
The first database to be released is  Cittanova (RC) Birth Index (1842 – 1865) which is still being updated by volunteers including Livio Moreno.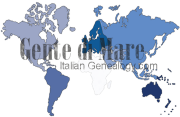 Over the last few months I've been busy trying to update both the Gente di Mare Website and Italian Surname Database.  A major makeover was desperately needed.   It's been a bit slow going to say the least but it's finally coming together!
The site is now being broken down into Categories and an index has been added to the home page which I'll be adding to as new content becomes live.  Due to the amount of files I have *buried* in the site this will take a while to get all linked.
The Italian Surname Database has also been updated to include a new search feature which now allows viewers to search not only by surname but by town, province and region.  It also allows partial searches which is helpful for displaying alternate name spellings.  Please note:  You can not search by email addresses or contributor names  so this should cut down on spam.  A widget has also been added to the site with real time posts linked to the Italian Surname Database Blog for easier viewing.
Hopefully you like the new features. As always I look forward to hearing your thoughts on the new look and any suggestions you might.  To add your surname to the database please continue to use the feedback form.  Names should be enter in to following format using normal text:
Surname
Town
Province
Region
Your Name
Your Email
Please refrain for using all capital or lowercase letters.  Thanks and Happy Searching!
In an email I received this morning:
View the 1911 census for free on findmypast.co.uk
We know what a brilliant resource the 1911 census is for any family historian, so we're giving it to you for free!
Until 18 November 2012, view a 1911 census transcript for free on findmypast.co.uk – this usually costs 10 credits.
We've also drastically reduced the cost of viewing an original 1911 census image – you'll pay just 5 credits instead of 30.
There's more good news: we always strive to offer our customers value for money, so when this offer ends on 18 November, we'll permanently reduce the price of viewing the 1911 census to 5 credits for a transcription and 5 credits for an original image.