We would like to congratulate Mike Savoca, the recipient of the 2013 Suzanne Winsor Freeman Memorial Grant.
Mike has been a part of our small Italian genealogy community for several years and we are proud to have him represent us at the Southern California Genealogical Society Jamboree June 7-9 where he will receive his award during a scholarship breakfast.
Look for more on Mike in the coming months as he will be covering the jamboree and sharing his thoughts with us.
As an added bonus to Mike, the Gente Community would like to add an additional $100.00 to the grant on behalf of the late Carole Bienati, Gente's co-founder and one of Mike's biggest supporters.
For more about this award check out The Family Curator blog and website.
The Rootstech Conference 2013 is happening in Salt Lake City Mar 21-23.  Today's General session sponsored by findmypast.com.
Log onto the Rootstech website to watch live streaming now!

Currently we are looking for Spanish-English and Italian-English speaking/reading/writing volunteers who are able to commit a few hours a week to help with extracting records, answering emails, and data entry. The interested person(s) should have access to Microsoft Excel, Word or Google Docs and have an understanding of Italian Vital records.  Most records will focus on the Southern region of Italy.
Interested parties can submit a short paragraph about themselves and what they're skills are.   Additionally if you have already done research on a particular family, town or region and would like to contribute or link that research to our site please let us know.  Genealogy or Family History sites ONLY please (all sites will be reviewed prior to linking).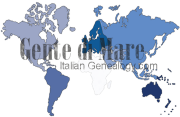 Over the last few months I've been busy trying to update both the Gente di Mare Website and Italian Surname Database.  A major makeover was desperately needed.   It's been a bit slow going to say the least but it's finally coming together!
The site is now being broken down into Categories and an index has been added to the home page which I'll be adding to as new content becomes live.  Due to the amount of files I have *buried* in the site this will take a while to get all linked.
The Italian Surname Database has also been updated to include a new search feature which now allows viewers to search not only by surname but by town, province and region.  It also allows partial searches which is helpful for displaying alternate name spellings.  Please note:  You can not search by email addresses or contributor names  so this should cut down on spam.  A widget has also been added to the site with real time posts linked to the Italian Surname Database Blog for easier viewing.
Hopefully you like the new features. As always I look forward to hearing your thoughts on the new look and any suggestions you might.  To add your surname to the database please continue to use the feedback form.  Names should be enter in to following format using normal text:
Surname
Town
Province
Region
Your Name
Your Email
Please refrain for using all capital or lowercase letters.  Thanks and Happy Searching!
Spett.le Direzione Generale per gli Archivi,
Come molti appassionati di genealogia, apprezziamo enormemente gli sforzi sviluppati dalla Direzione Generale per gli Archivi per rendere pubblici gratuitamente i documenti di Stato civile. Siamo dunque stati entusiasti all'annuncio del lancio del "Portale degli Antenati" e dell'accordo firmato tra la Direzione Generale per gli Archivi e Family Search International per la digitalizzazione, l'indicizzazione e la pubblicazione dei registri italiani.